For some reason, everything is better when it's a 'mini'.
Mini cupcakes.
Mini chocolates.
Mini cars.
Not only are these mini tacos delicious, but they are so easy and great for families with kids. They can help make the dinner and it's easy for them to eat.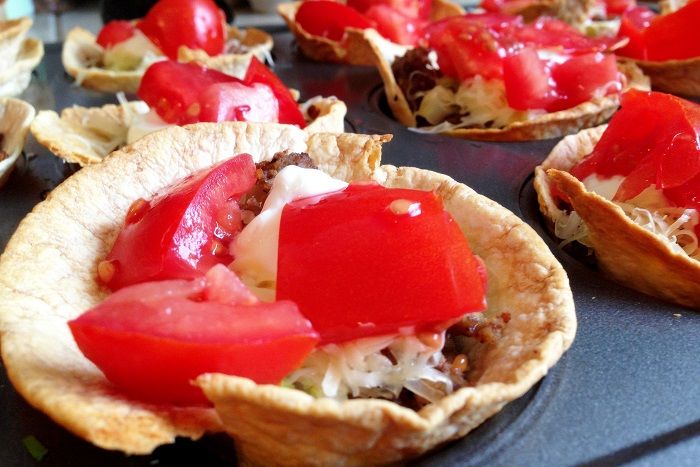 It's very simple. You take your trusty muffin pan and grease it up a bit with coconut oil or butter.
Then you take flour tortillas and rip them into pieces.
My kids enjoyed this process.
Then you overlap them in each muffin cup.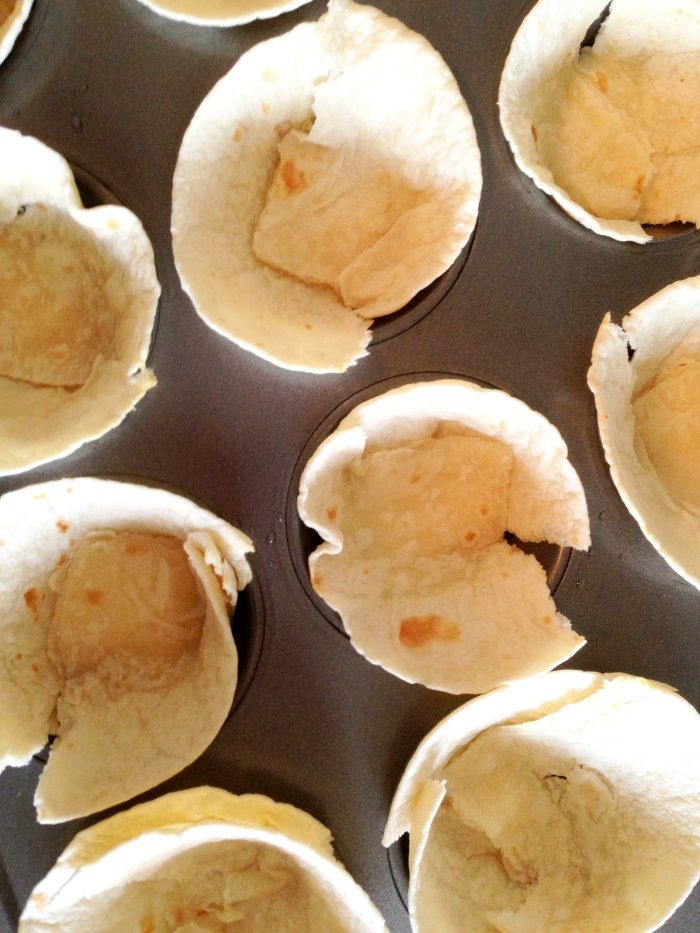 You put the cheese on the bottom, which will act as a glue to hold the tortillas together.
Next you'll add your meat (if you are using meat - these could easily be veggie bowls), green onions and any other toppings that can be cooked in the oven.
Oh yeah, then I top with more cheese.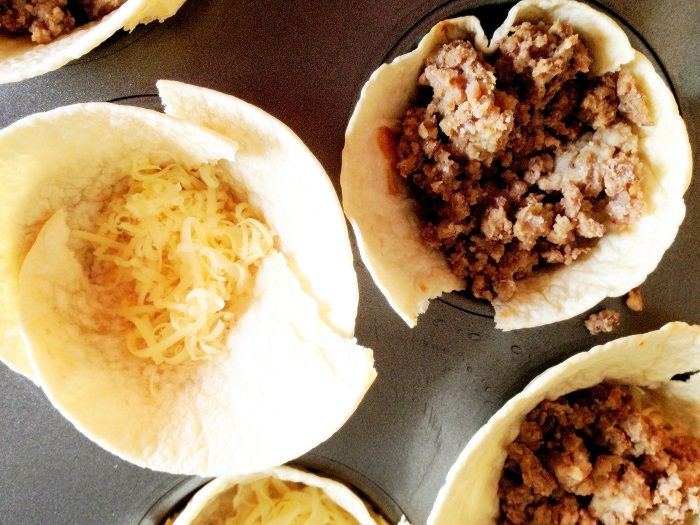 Once the tortillas are browning and the cheese is melted, I remove them from the oven and add the crème fraiche (you could use plain full-fat yogurt or sour cream), tomatoes, lettuce and homemade salsa.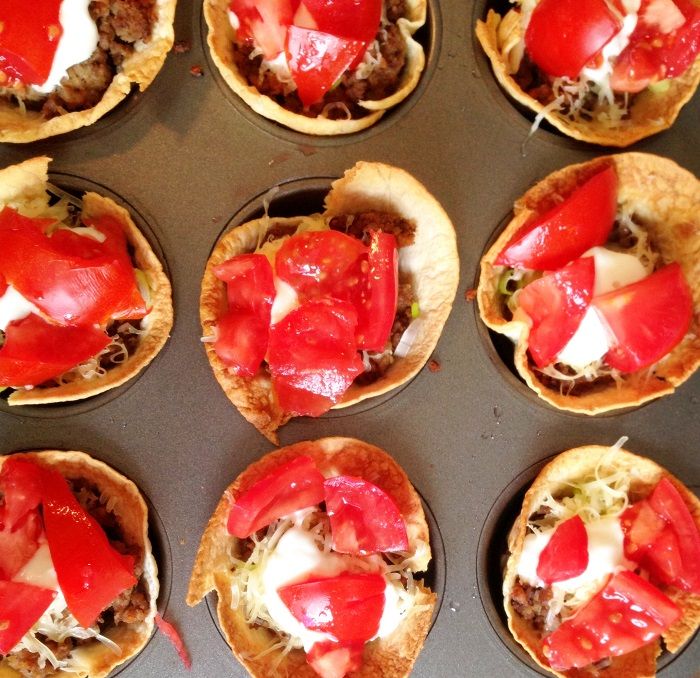 That's it. Serve with some yummy Deep Dish Mexican Rice Casserole (recipe coming soon), guacamole dip and you should have some mini dark chocolate bites for dessert.
It's only right to balance the meal out.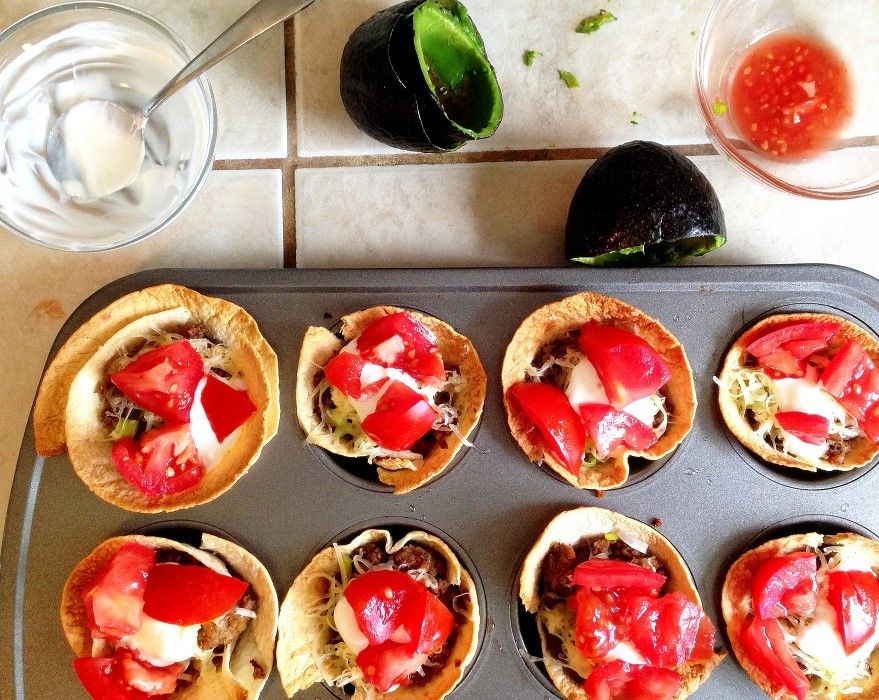 Mini Crunchy Taco Cups
What You Need:

- 5 to 8 organic flour tortillas

- 1.5 to 2 cups organic shredded cheese (I use raw or cheese from grass-fed cows)

- 1.5 pounds grass-fed beef, seasoned with taco seasoning if desired

- organic tomatoes, chopped

- organic green onions, chopped

- organic red or green leaf lettuce, shredded

- organic crème fraiche (or full-fat plain yogurt or sour cream)

- fresh salsa

What You Do:

Brown and cook beef in a skillet, season if desired. Once done, remove from heat and set aside.

Preheat the oven to 325F degrees.

Grease a muffin pan with coconut oil or butter.

Tear the flour tortillas and overlap and press them in each muffin cup (refer to photo above).

Place 1 heaping tablespoon cheese in the bottom of each cup.

Place about 3+ tablespoons of the beef in each cup. You may have to use less or you could use more - depending on how much room you have and how much more items you'll add once you remove these from the oven.

Top the beef with some more cheese.

Place in the oven and cook for about 10 minutes. Check on them and let them cook until you see the tortillas browning.*

Once they're browned and cheese in bubbly, remove from the oven.

Top with remaining ingredients:

crème fraiche

, tomatoes, lettuce, fresh

salsa

and more cheese!

Remove from muffin cups and enjoy!

* ovens heat differently, so you may have to turn your oven temp down 5 or 10 degrees if you see it burning the tortillas too quickly.
Enjoy these little mini cups of yumminess! You can't beat something so simple, quick and delicious!
Don't forget the mini dark chocolates. I'm pretty sure the mini taco bowls taste better when followed with this decadent treat!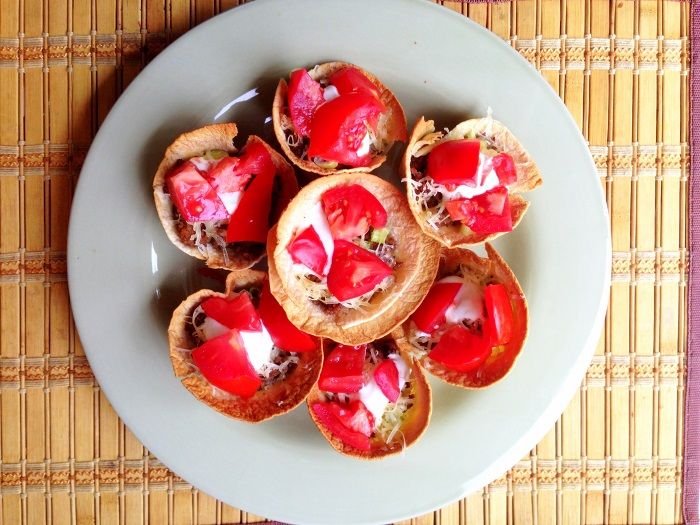 As always, Health Made Easy!
xo Kari
"If not for chocolate, there would be no need for control top pantyhose. An entire garment industry would be devastated."
Unknown